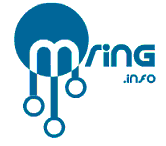 Mring - Wherever incoming call
Mring IP PBX will respond a call to caller to choose their extension, or client can
set their caller number id on Mring database and having IP PBX recognized it and directly
forward to client extension once the known caller make a call.

Client IP Phone can be any of SIP Phone, software and hardware,
A first choice for test Mring service recomended by Mring is zoiper, it has Windows, Linux and MacOS version.

if you prefer not to install a software, try webphone www.flaphone.com
Click below image to see how easy to setup zoiper or flaphone for Mring



Recomended hardware is Linksys SPA2102, Grandstream HT286, Dlink VTA, Sipura, or Nokia E and N series sip compatible cellphone

or you can forward the call to any phone number including your cellphone using Gizmo5.com service
for cost as low as 1 Cent per minute, click icon below to see how to forward your call.





The first number you can test is dial 123 for VoiceMail Box and dial 100 for Echo test.
Please contact info@mring.info for further information


---